Prism Printers, New Delhi installs Canon's flagship 100ppm Digital Printing workhorse.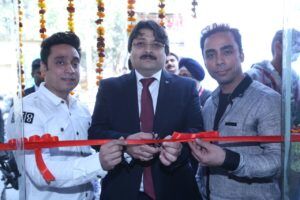 Canon's top of the line imagePRESS C10000VP has been installed at New Delhi based Prism Printers. The machine was inaugurated at Prism's Gol Market facility at a grand function attended by Mr. Puneet Datta, Director of Professional Printing Products (PPP), Canon India.
imagePRESS C10000VP is Canon's first 100ppm machine which has the ability to produce consistent high quality prints on wide variety of media including highly profitable texture paper. The machine is recognized as one of the strongest digital-colour Production Printers Canon has ever offered.
The innovative imagePRESS C10000VP/C8000VP takes digital colour printing to the next level. It uses various proven and upgraded Color Control technologies like Auto Gradation Adjustment, Auto Correct Color Tone, Shading Correction and Multiple Density Adjustment Technology. This Powerful Print Engine featuring EFI RIP Print Servers reliably delivers print speeds of up to 100ppm and consistency at 350 gsm without compromising on quality and offers an excellent return on investment for busy graphic art environment.
Expressing his views on the increasing market demand for the machine, Mr. Puneet Datta, Director, Professional Printing Products (PPP), Canon India said, "At Canon, we believe that technological innovations are key to drawing a balance between the market demands and trends. Leading by innovation, we are empowering users to adapt to newer technologies and keep them at pace with the global printing practices. The installation today is another step in the direction of increased customer outreach. The imagePRESS C10000VP has been instrumental in allowing our customers to exploit the growth in the colour production market. It is ideal both for existing customers who have grown their print volumes with the imagePRESS series and are now looking for the next step in high quality colour productivity, as well as for other customers who want to take advantage of the changing market demands. Our main objective is to add to the revenue stream of our customers. Through the best of technology and invention, we are constantly endeavouring to enhance the productivity and production quality of our users, in turn helping them provide more efficient services to their end consumers."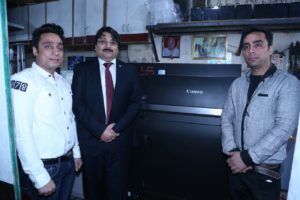 In the changing age of digitalization, the markets are in the process of transition from print-first to digital-first. The digital machine installations are growing at 15% to 18% per annum with the customers opting more for On Demand and Short Run printing. Keeping up with the evolving needs of Digital Printing, Prism Printers opted for the first top-of-the-range imagePRESS C10000VP from Canon India.
Mr. Vipin Kharbanda, Managing Director, Prism Printers, said, "I started Prism Printers with my brother 7 years ago. Since the inception, we are committed to and take pride in providing the best quality printing solutions to our customers. We specialize in printing brochures, catalogues and booklets extensively catering to the jobbers segment. In the past, we have been using equipment's from various Digital Printing vendors and wanted to differentiate our prints on parameters like print quality with colour consistency & accurate front- back registration. After multiple evaluations, Canon imagePRESS C10000VP emerged as an excellent choice for us giving us everything we were looking for – all in a single equipment. We are thrilled to have installed the device at our premises and are excited to delight our customers further with the enhanced printing experience with variety applications possible now."
In the professional printing industry, Canon products are recognized for superior quality, efficiency and enhanced productivity. The imagePRESS C10000VP is designed to meet the evolving needs of commercial and in-house print service providers (PSPs), enabling higher production volumes without compromising on quality. The printer comes with 2400 x 2400 dpi resolution. The choice of new front end controllers based on EFI Fiery FS200 Pro Platform allows the product to streamline the workflow and media handling capabilities from 60 gsm to 350 gsm. It can help commercial printers, in-plants, production hubs, direct mail and transaction print service providers to produce a broader range of applications in shorter turnaround times.
The Imagepress 10000VP, Canon's first 100ppm device, has yielded more than 50 installations since the launch, attracting the attention of the industry at a pan India level.