Print technologies that allow the user experience to be enriched and maybe blur the boundary of print world and digital world, will see far greater adoption, says Mr. Puneet Datta, Canon India, as he speaks about the changing landscape of print today.
The pandemic has impacted the complete ecosystem and dynamics of Indian printing industry. While traditional applications took a severe hit, applications to do with packaging and labels saw an increase. The key concerns facing the industry would be based upon the return to normalcy of segments on which print volumes are dependent upon. As per various studies done within India, no one as of now expects 100% recovery for traditional printing as there will be a new normal that is expected to settle in. Mr. Puneet Datta, Senior Director, Marketing & Sales, Canon India, speaks about the industry, the changing landscape and Canon India, the latest offerings, future scenario and much more in an exclusive interview with PRESSIdeas.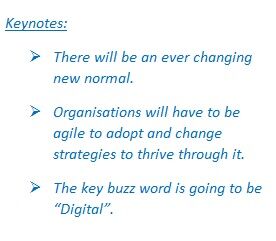 "The new normal is rapidly evolving with each passing month so it is very hard to state what it would look like," pictures Puneet Datta, Senior Director, Marketing &Sales, Canon India. "However good sign is that large enterprises who were earlier speaking of work from home culture even post return to normalcy have realised the need for physical presence of staff in offices. Similarly, in the education segment the medical fraternity is pushing for offline classes to balance the mental well being of children although with a cautious approach," he adds.
"The one parameter that has remained constant through this pandemic, as one to pay the most attention to for all, has been cash flow. If I were to sum up the situation in a sentence, there will be an ever changing new normal, and organisations will have to be agile to adopt and change strategies to thrive through it. The key buzz word is going to be "Digital" whether it is digital transformation in segments that generate print volumes or closer to our industry, digital printing solves both the agility and cash flow issue when compared to conventional printing," he explains further about the changing environment vis-à-vis the Covid-19.
The changing demands of the market and new customer expectations
During the pandemic the digital economy grew many folds in various domains. The convenience and safety offered by e-commerce platforms was preferred by most. A big change was seen in terms of video and collaboration platform adoption – be it Zoom / MS Teams/ Google Meet etc. as work from home / education from home became synonymous with day-to-day life. The spend pattern of the consumer changed drastically with more emphasis on health and savings rather than spending. Major marketing spends shifted overnight from print to digital media.
Digital printing in India is establishing itself strongly in many segments of printing be it label or packaging or industrial printing. As hybrid work culture sets in, Canon is developing solutions and capabilities to evolve with the changing culture and print requirements to its customers.
All the above also have affected the print industry. Office printing virtually stopped in initial phase of pandemic and is now recovering as offices have started opening with state governments relaxing rules. The demand by e-commerce platforms for packaging and healthcare industry for labels of sanitizers and cleaning disinfectants grew very fast. However, printing of visiting cards, letter heads, brochures, catalogues, education books and other marketing collaterals took a nosedive and has hit commercial printers the most.
Mr. Puneet Datta sums up the major trends as: "There are as of now six major trends that we foresee:
Conventional printing might not recover 100%
There will be increase in digital printing due to inherent advantages of flexibility and print on demand
There is increase in investments from Tier II, III & IV cities
There might be consolidation of print capacities in Metro & Tier I cities
Customers will start looking at more reliable and sustainable investments in print equipment rather than just low value investments
Workflow solutions that offer convenience in terms of monitoring, control and convenience for secure online print submissions and necessary approvals from end customers will be a growth area.
Going forward, print technologies that allow the user experience to be enriched and maybe blur the boundary of print world and digital world, will see far greater adoption."
Affordability of answering new demands
The affordability of answering new demands is a challenge during the pandemic. "However, as we emerge out from it, the new demands that might emerge will create a need for a hybrid printer to emerge. A hybrid printer would not be only handling one type of printing but rather would either diversify into multiple print equipment infrastructures to cater to different segments or would diversify as a communication specialist rather than just a printer. This could potentially imply not only new investments in print and allied machinery but also in skill development in domains like IT, sales and marketing which as per us could be a bigger challenge to overcome," infers Mr. Puneet Datta.
"Of course affordability would continue to play a crucial role and the entire ecosystem of printers, their customers and OEMs like us would need to communicate more vigorously to come up with amicable solutions and pricing strategy that cause a win-win approach," he adds.
The changing perception towards digital printing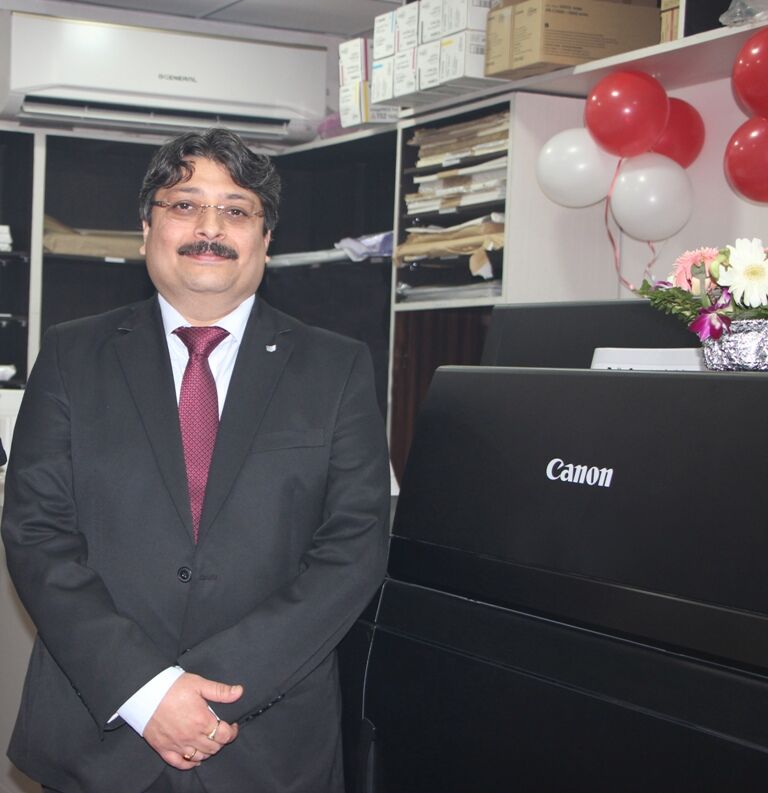 The printing industry has been at the cusp of a revolution driven by seismic changes in technologies. Industry adoption has been rapidly shifting from traditional to digital printing. With the onset of the fourth industrial revolution, a new era of individualization and personalization has begun in the professional printing space. "Digitalization remains the key growth driver for the printing industry. Innovative digital printing products are being adopted at a rapid pace because of their better operational efficiencies, seamless workflows, lower printing costs, and minimal wastage," says Mr. Puneet Datta. "With customers becoming more informed and specific (read shorter) with their print turnaround times, the digital printing industry has seen exponential growth in the past few years. Even this year we can witness increased demand from smaller cities although for smaller investment cycles," continues Mr. Puneet.
We see digital printing in India establishing itself strongly in many segments of printing be it label or packaging or industrial printing. As hybrid work culture sets in, Canon is developing solutions and capabilities to evolve with the changing culture and print requirements to its customers.
With COVID-19 continuing to cause uncertainty, Canon has adopted the concept of 'new normal' intensely across divisions. The key strategy for the digital solutions provider has been to focus on resource optimization and at the same time-to help businesses to look for operational efficiency, cost reduction, improved turnaround time and serviceability. "Besides, technology infrastructure plays a pivotal role for organizations to adapt to the new work environment and Canon's business solutions are well equipped to help them in achieving the desired objectives effectively. We have been constantly working towards changing the technology landscape by bringing products and solutions that can help our customers grow effectively. We remained in constant touch throughout this time with our partners and customers and kept assuring them that together we will come out stronger from this situation," explains Mr. Puneet.
Advantage Digital
Print is here to stay. However, what gets printed and how will change. We are in once a century event and no one can predict when or how will this end. Thus, it is difficult to state whether print will completely revive in all shapes and forms. The print volumes are however on revival path.
Digital printing has obvious advantages. It is less manpower intensive, more environmentally friendly (less power consumption, less carbon footprint, less hazardous) and also budget friendly with lesser learning curve.
Apart from labels and packaging, there are other growth areas enabled by digital printing that hold promise in the present times. "During the lockdown we have seen passion for photography increasing a lot amongst our consumers," shares Mr. Puneet."We feel that one area that has huge potential in coming future is consumer printing their own designed albums. Apart from the same, personalized printed products could also see an upward trend as marketers make personalization their key play," he adds.
Canon used such market insights and customer feedback to build product development capabilities during these times. It helped them unlock the next phase of value creation for their customers. To keep up with the pace of the fast-moving digital printing industry and to match the evolving needs of their customers, Canon has several cutting-edge technologies to offer. "We take pride in being at the helm of world-class technology in the professional printing business and bring forth products and solutions that are a perfect amalgamation of business efficiency and cost reduction," states Mr. Puneet.
"Our core target areas for future will be to strengthen our foothold in the cities we are currently operational and at the same time expand to untapped geographies as much as possible, to be able to cover maximum opportunities that present themselves to us," he envisions.
Latest offerings from Canon
Canon India recently launched innovative products in the professional printing segment – a new range of products in the imagePRESS and imagePROGRAF series. The newly launched imagePRESS C10010VP, imagePRESS C9010VP, imagePROGRAF TZ 5300 and imagePROGRAF TX 5410 are built on a proven and reliable technology platform with enhanced automation and extensive media-handling capabilities. "To keep up with the pace of the fast-moving digital printing industry and to match the evolving needs of our customers, we have several cutting-edge technologies vide these products to offer. We take pride in being at the helm of world class technology in the professional printing business and bring forth products and solutions that are a perfect amalgamation of business efficiency and business growth," says Mr. Puneet Datta.
Canon promotional campaigns
For promotional campaigns, traditionally Canon has been actively conducting physical events that have been the key enablers and drivers for all promotional activities. "We have seen that our audience prefers having the 'touch and feel' experience before making any purchase decision. But courtesy the pandemic, we have adopted the phygital marketing strategy – a combination of physical and digital. We have realized that digital is one of the ways forward. Our customers are also continually evolving and adapting to the changes that digitization brings," discloses Mr. Puneet.
Focus on digital marketing is the one big shift in Canon's promotional strategy. For example, they have also started demo on wheels services where they are taking the smaller foot print products to the customer at their doorstep for them to experience it.
"We believe that digital printing will grow manifold in the coming years and both providers and customers will substantially benefit from this growth. Digital printing has evolved over the years and has opened a whole horizon in the world of printing industry. It has equipped the industry with tools to meet customer expectations and embrace new advancements in printing. With the onset of the fourth industrial revolution, the line between digital printing and conventional printing methods has begun to blur, thus paving the way for a new era of individualization and personalization," elucidates Mr. Puneet.
Over the past couple of years, Inkjet technology has taken center stage; and in high speed, high volume printing it is already the preferred choice in the developed countries. A lot of the success of this has to do with the paper manufacturers who have developed suitable paper for the said technology. "We see digital inkjet printing to be more synonymous with book printing, label printing, packaging and even commercial printing in times to come," reckons Mr. Puneet.
Canon's competitive advantage comes from amalgamation of man and machine. "Our printers have genesis in our strong and global R&D team that makes customer value at the core of technologies. We believe our patented technologies and highest reliability of our products is a big advantage to our customers. This combined with our customer service team who is highly trained and capable to ensure highest uptime to our customers make it a compelling proposition for long term business association for our customers," he asserts.
"We strive to improve quality across the entire product lifecycle in order to provide customers with satisfying products. We are also developing a framework throughout the Group to continuously improve quality by sharing appropriate information and customer feedback obtained from the market with divisions in charge of product planning, design, and development. Canon's safety-conscious standards call for the use of plastics that are more flame resistant than the law requires, and we implement double-protection schemes for important safety related components. We regularly revise these standards in light of technological advances as well as the changes in how customers use our products, and changes in customer demands regarding safety," continues Mr. Puneet.
Canon provides customer friendly support services through utilisation of digital technologies like websites, app and WhattsApp.To achieve even greater customer satisfaction, Canon conducts product evaluations from the customer's perspective at the development stage and incorporates customer feedback and requests in its development and design processes.
There is an emerging global trend toward the recycling and reusing of resources due to concerns about natural resource depletion and marine plastic pollution. As a perfect answer to the environmental needs of present time, Canon promotes reductions in resource consumption and product-to-product recycling with the aim of contributing to the development of a circular economy.
To ensure more efficient use of limited resources and reduce waste, Canon is making products smaller and lighter, and reusing and recycling materials as much as possible. "We also strive to reduce waste consumption and the generation of waste from manufacturing at our operational sites. Canon has five sites conducting recycling in four regions around the world. We are continuing initiatives aimed at circulating resources within the same regions where they are consumed. Canon operates recycling programs including Toner Cartridge Collection and Recycling Program which enable plastic material to be used repeatedly. Canon actively works to reduce the amount of waste originating from operational sites and to reuse or recycle waste. For sustainable water use, we strive to improve water-usage efficiency," sums up Mr. Puneet.
Speaking on the utilization of digital's full potential, he says, "I think, the 'personalization' capabilities of digital have not been utilized to full capacity. However, personal data security laws of each country have a big role to play on how and to what extent data could be used to target a customer. Having said that, personalization is the key to giving each consumer an individualized experience – be it retail, online or print. This is what brands are looking for today in an ever-changing world where each consumer has such low attention span and digital can play an important role in that space," he affirms.
Packaging vis-à-vis Digital Printing
Digital printing is yet to take steps in packaging industry, according to Mr. Puneet. "Packaging has not yet leveraged the advantages of the digital printing world. However, as the market evolves and the consumer behavior changes, packaging fraternity will see digital as a big opportunity –in terms of communication with the end consumers and the product positioning. Packaging is all about taking the mind share of the consumers. Marketeers and packaging developers have started realizing that they need to understand the psyche of consumers and started communicating in a way that connects them with the customers directly. Packaging is the most evolving segment in the whole printing scenario as of today and digital is going to play a big role as far as packaging is concerned," he explains.
In absence of industry exhibitions, Canon is regularly hosting live online demonstrations using the latest technology from their CTEC facility in Noida. Online demos are the new normal today, says Mr. Puneet. "The customer can join through the online link and experience what the product looks like and the various features it possesses. They can send us their media and print files in advance, and we can print it live for them and send it back to them to see firsthand. We have also built virtual tools for customers to experience our products in three dimensional space," he concludes.