Installs Ahmedabad's first Ricoh Pro C7200X digital print production press at Shree Paras Printers and a duo of Ricoh Presses at Brigar Media.
Monotech Systems has installed a Ricoh Pro C5310S Color Digital Production Press and a Ricoh Pro 8310S Monochrome Digital Production Press at Ahmedabad based Brigar Media. Also of Ahmedabad, Shree Paras Printers has installed the city's first Ricoh Pro C7200X digital print production press.
Established in August 2020, Brigar Media offers digital book printing services and is run by Sagar Shah and Brijesh Panchal, both of whom work as directors.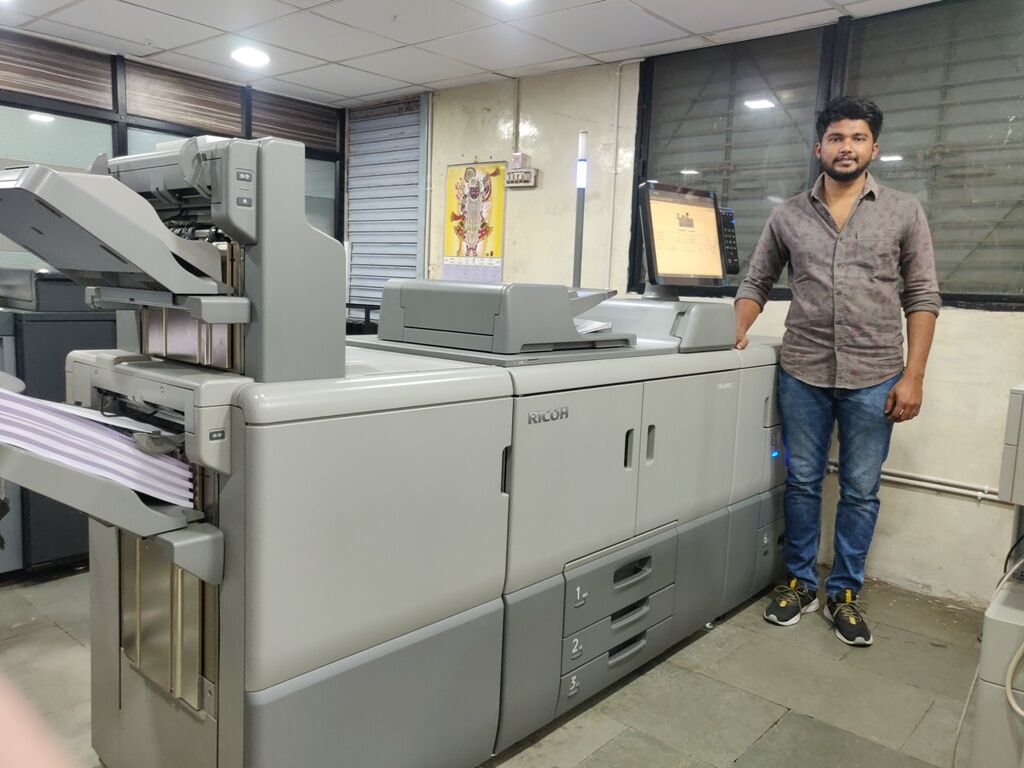 According to Shah and Panchal, the company opted for the Ricoh production presses for their quality and robustness. Also, the after sales service of Monotech Systems is also the fact that we considered while going for the presses which is very important. According to Shah, after-sales service is the biggest challenge in the digital print business.
Shah added that the company went for Ricoh to take advantage of the future of digital printing. "Technically, we were quite sound and by personally taking a trial of the machine, we were able to tackle the challenge," he said.
Before this investment, the company was using a Konica Minolta 6120. Shah added that with the new investment, the company is able to print on time and is able to satisfy its customers.
"This joint investment will enable Brigar Media to deliver both monochrome and colour applications to their customers. Earlier, they used to serve colour printing applications from outside but now they will be able to make it in-house. Both the engines are robust productive and offer high quality. We congratulate Brigar Media for their association and their trust in the Ricoh and Monotech Systems," Akash Kumar, marketing head, Monotech Systems, said.
Built as a right-sized solution, the RICOH Pro C5310s offer a fusion of vibrant colour, agile media handling and a wide range of finishing options. With superior reliability, accurate registration and intuitive controls, they are ideal for marketing agencies, in-plants, commercial printers and franchise/pay for print environments looking for a total package.
The RICOH Pro 8310s/8320s multifunction production printers are ready to help printers grow their monochrome volumes or smoothly transition short-run offset printing jobs to a streamlined digital workflow. With options for end-to-end document production, inspired image quality and reliable performance, these systems provide the innovation and automation to bring new opportunities to the forefront in a printing organization.
Shree Paras Printers installs Ricoh Pro C7200X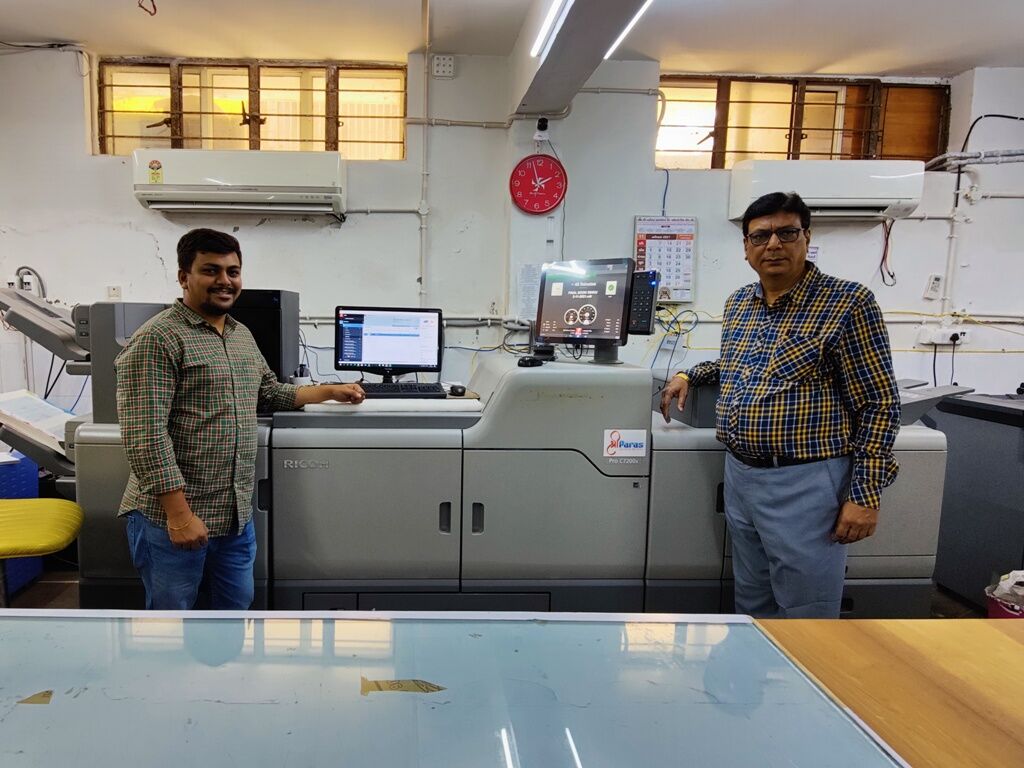 Ahmedabad's first Ricoh Pro C7200X digital print production press goes to one of the leading digital and commercial printing houses of the city – Shree Paras Printers. The company is run by Nitin Shah and his son Harsh Shah.
"The difference between four-colour digital printing and special colour digital printing with the latest print technology was the reason why we decided to opt for the Ricoh Digital Press," Shah said.
Started in 1991, Shree Paras Printers has a total of 2,700 sqft area for digital printing. The company already has a Xerox Versant 180, a Konica Minolta C3070 and a Konica 6120 B/W production printer and all types of post-press equipment.
According to Shah, the USP of the company is that it offers its customers the best printing technology with print enhancement. He added that the new Ricoh digital press will help offer quality printing, heavy production and variable colour options.
Also, with the Ricoh C7200X digital production press, the company will be able to offer fast production and good printing quality and embellishments with a big print volume. With this new investment, the company is expecting to grow 25 to 30% year on year.
Ricoh C7200X is a game-changing digital press. RICOH Pro C7200X Graphic Arts Edition offers both MFP and printer models that deliver superb image quality, oversize print options and diverse media choices. The 5th Color Station lets printers go beyond CMYK to produce unique, compelling materials that can command premium prices. Advanced workflows and performance-enhancing capabilities help them fulfil demanding deadlines while keeping operational costs low. The EFI Fiery Command WorkStation user interface enables precise control of jobs, colour management, image quality, VDP and output devices. High RIP speed and native PDF workflows enable jobs move through production quickly. In addition, optional tools help them expand offerings and extend the value of their investment.
"There was a demand for a right fit product in the market that offers special colours. This USP of the product clicked Shah and he decided to go for it which is first in Ahmedabad. Paras Printers has been an esteemed customer for us and we cherish this relationship which has continued for many years. We hope that the Ricoh Pro C7200X is going to bring more revenues for them," Ajeet Pareek, Business Head – Digital Products and Solutions, Monotech Systems, said.