Nippon Color installs Cron CtP at Lucknow based pre-press bureau which replaces their existing CtP to reap straight 40% increase in plate production.
Lucknow based Premier Process has recently invested in a Cron Thermal 128 channel CTP (Model: TP-46128G+). This is the latest redesigned model with new appearance, integrated output device, user friendly control interface and brand-new touch panel operation bring a friendlier human-computer interaction and experience. The machine has been installed by Nippon Color.
The Cron Thermal CtP at Premier is capable of producing 49 plates per hour and supports plate size of up to 1030 mm. Key Features include: Square dot imaging, accurate dot reproduction with minimum error rate ≤1%, plate making resolution ranging of 1800/2400/2540/2800 dpi, suitable for AM/FM/Hybrid screening ≥ 300 lines per inch, 10-micron FM screening print. Additionally, higher resolutions of 9600/10160 dpi can be upgraded to meet up with exquisite printing.
Premier Process specializes in book production and producing all types of jobs as well as plates for institutional and government sectors. The company ensures high accuracy in production to reduce errors and mistake by having specific department to check and preflight the job before production. This not only has enabled them to eradicate mistakes both for in-house jobs and clients but also ensured that the end product comes out flawless. Quality of production is of paramount importance for a team of 18 employees of the Premier which produces about 80,000 to 100,000 sq.mtrs of plates every year. The annual turnover of Premier Process stands at approx. Rs.4Cr. The company is led by Mr. Susheel Ratlani who handles its complete operations and business.
A long standing relationship with Nippon Color pays off
Their choice of the latest Cron CtP was somewhat instant. Besides the capabilities like maximum plate size, speed and quality, their long relationship with Nippon Color played a major role. "Apart from the supported plate size, speed, quality, service support and warranty that made us to go for the Cron CtP, we actually didn't feel the need to look for any other machine. Our strong trust in and relation with Mr. Jayant Pardiwala was enough for us to not waste time and energy looking for something else in the market. We are replacing one of our Kodak CtPs, which too had been provided by Nippon," reasons Susheel Ratlani.
Book publishing for institutional and government sectors is the key area of markets being catered to by Premier Process which houses two Katana Imagesetters, one Xerox Versant 280 Color Production Printer, one Xerox D95 Mono Production Printer, one Kodak Trendsetter CtP lined up with Glunz & Jensen Processor and Baking Oven.
"Till now we have been using 2 Kodak CTPs. Now we have added Cron and given one of the Kodak devices as buy-back. The Cron machine is much faster and allows us to increase production," informs Susheel.
Explaining further, he says, "A new machine with extended warranty on both Laser and Machine ensured me many trouble-free years ahead on this machine. Besides it having increased production capacity and online integration, the most important part was its capability to handle 940mm X 1016mm size which was a particular requirement for us. Earlier, we had to do this size only on VLF machines and even Kodak 8UP wasn't able to handle them. But, now it is possible with our new Cron machine."
It is not only their Cron that Susheel is quite satisfied about, but he is full of praise for their association with Nippon Color. "Our association with Nippon is 12 years now and we have always found Mr. Jayant Pardiwala and his team as personally dedicated towards support and service to clients. We never think twice when it comes to either buying new equipment from them or seeking support for the existing one," he affirms.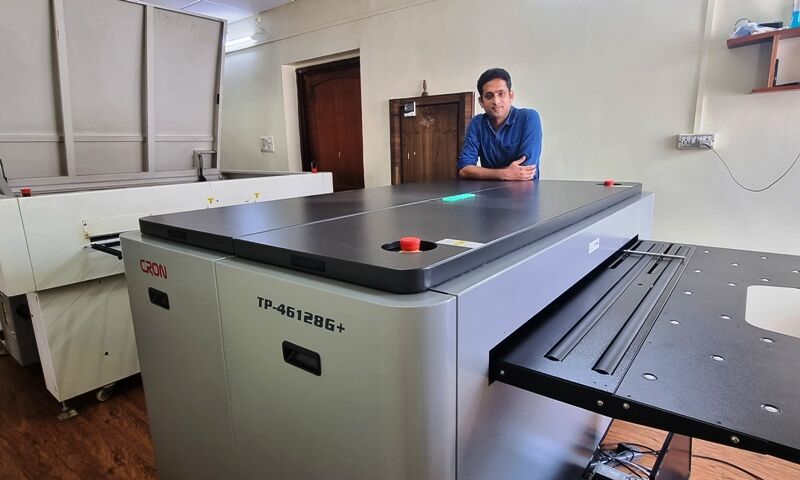 "This machine is much convenient in production as the plate load and unload system is almost as good as having an autoloader machine without even having the attachment. In addition, Nippon Color made sure that our operators as well as I received adequate training during the installation," reveals Susheel.
Premier Process has enormously benefitted from the Cron installation, especially in production volume boost. Earlier they used to produce 35 plates per Kodak CtP for 1030 format. The Cron CtP gave a boost of straight 40% with its 49 plates per hour speed. This clearly gave them a total volume increase from 700 plates to 840 plates per day as also improving their plate delivery times for clients. "The increased volumes also allow us to serve our clients with faster production," avers Susheel.
"A faster machine always reduces cost per plate production in terms of man-power and electric consumption. And definitely team of Nippon took thorough time during installation procedures to ensure our requirement for perfect reproduction of dots and plate quality. So with this new investment Nippon Color enabled us to make savings in terms of wastage, manpower, and accuracy in terms of percentage or lesser rejections etc.," he adds.
Though the Cron CtP can run any thermal plate, Premier Process is 100% working with Technova plates – the ATHENA and ELITE variant.
"We took Covid as a challenge as it was a testing time for all. That challenge we converted as opportunity to work towards gaining more volumes and also to enhance our services. This is when we decided to upgrade our 2nd Kodak with the Cron and as a result also increased our production capacity," concludes Susheel Ratlani.
Nippon Color has been providing innovative solutions to the industry since the camera age. They are one of the market leaders supplying pre-press equipment and CTP plates. "We have seen the transition of technologies, from cameras to scanners to imagesetters and now to CTP machines, happening in front of our eyes and have given a hand-holding to numerous customers in this journey," says Akshat Pardiwala, COO, Nippon Color.
"We feel blessed to have customers who continuously put their faith in us and trust our solutions and service," adds Akshat.
Nippon Color has now added various digital solutions in their portfolio to assist their customers to transition from traditional analog to digital printing and finishing. It has partnered with Konica Minolta for the Industrial Solutions which include MGI Spot UV Varnish and Foiling equipment, and AccurioJet KM-1e which is a digital full colour B2 size sheet-fed LED UV Inkjet press that offers print professionals' infinite possibilities. They have also added digital label printing & finishing solutions in their portfolio. "While offset and pre-press remain our foundation, we are now focusing more and more on digital solutions," says Akshat.
"To talk specifically about Cron, we have seen the brand grow from a small factory to becoming the largest CTP manufacturer in Asia, or possibly the world, with a formidable portfolio of products which span the entire digital prepress spectrum including UV, thermal, large format CTP, and even Flexo CTP," he states.

With more than 20 patents in its portfolio, Cron is one of the leaders in developing technologies for the graphic communications industry. "We have installed several hundreds of Cron CTP machines in India," says Akshat.