The future is to merge the Physical and the Digital – Phygital. Ranesh Bajaj, Director, VINSAK India speaks about VINSAK, enabling Convertors and Printers to add value to their offerings and shore up their bottom lines without major investments and more.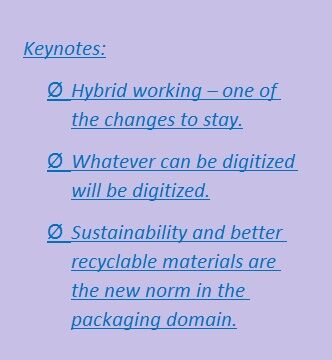 Covid-19 has been a tough time for all and a few could manage the hard times well. VINSAK is one of them. "Tough times never last but tough people do!" states Ranesh Bajaj, Director, VINSAK India, who does not only say it but has been at the helm of one of the leading houses of our industry – sailing strongly and successfully all through the tough weathers.
"VINSAK has successfully negotiated the tough period of the Covid-19," says Ranesh Bajaj. He says that there Service Support to global clients carried through without much disruption. Neither were there any staff layoffs at the company. "While capital good sales were impacted to some extent, 2021 has seen a recovery in demand with 2022 showing signs of a full recovery. The pandemic has also ensured that we learn to work in the Hybrid mode which in many cases is much more efficient," adds Ranesh.
Printing has been severely and variously affected by the pandemic; more so its various segments. "Commercial print is surely now seeing an earlier end to its existence," observes Ranesh. "Whatever can be digitized will be digitized and this is a normal that we have to live with. Labels and packaging will continue to grow exponentially and all those who need to continue to be in the printing business will surely need to retool their kits," he elaborates.
The demands of the market as well as customer expectations changed substantially during these times. "Sustainability and better recyclable materials are the new norm in the packaging domain. It is essential that brands are now seen as reducing their footprint and also offering print and packaging which is recyclable. This is now defining the new technology thrust in our industry," asserts Ranesh.
Consequently, the affordability of answering the new demands has changed much. Companies recognize the future ways of providing the solutions at the best possible price. "As raw material, energy and labour continue to rise and interest rates fall, it is clear that more automated, easy to set up and low wastage equipment are the future. Printers and convertors should focus on the ROI taking into consideration all these while making equipment decisions and not just the capital cost of a piece of kit," suggests Ranesh.
With the markets opening slowly, Hybrid working is one of the changes that Ranesh thinks would stay. "Acceptance of people to meet virtually and not in person and accept this as the new normal are going to stay. This also improves work efficiency drastically and allows us all to have a better work life balance. Hybrid working will stay!" he declares.
"We are lucky to have been in the packaging business where the impact of Covid-19 related situation was not so severe," states Ranesh. They have already regained 2019 levels of business in Q2 of 2021. Also, the group's geographically diverse operations across global markets and time zones have helped to even out the curve, informs Ranesh. Middle East and African markets have contributed greatly to keeping the balance sheets healthy. Service issues with new technology have really improved and uptimes are higher than ever before.
"I think Commercial Print is not likely to improve. We all need to focus on Packaging which will grow as GDP and income levels grow," he continues.
Talking about growth areas in the coming times, Ranesh says, "In Mould Labels, Sustainable packaging all will grow in double digits. We all need to put our energies and R&D efforts in growing the same."
VINSAK's core target areas for the coming 2 years would be to 'continue to serve our customers by offering cutting edge technology' according to Ranesh. "It has been our strategy for the last 25 years and we will continue on the same," he says.
The latest offerings from VINSAK for their customers include a range of solutions for label embellishment as well as VDP. Speaking about these offerings, Ranesh asserts, "Our current focus is on offering more label embellishment solutions as well as VDP solutions to our existing client base. Convertors and Printers can look at adding value to their offerings to brands and hence shore up their bottom lines without major investments."
Webinars and one on one online discussion have continued to grow in the last 2 years and will stay. However, exhibitions are now back and 2022 should see a healthy year for the same. Gulf Print UAE, Print Pack India and Label Expo Brussels are the key upcoming shows of 2022 where customers can see the latest offerings from VINSAK. "In 2021 we just finished Gulf Food manufacturing and the Prime awards 2021 where we supported the Sustainable projects of the year and the Sustainable Label of the year awards," says Ranesh.
Packaging – future opportunities and VINSAK technology
As print evolves, in coming times, digitalization of processes is more capable of catching up with market trends. "The future is to merge the Physical and the Digital. Hence the term Phygital was coined. More and more solutions are on leveraging the digital solutions backed up by good physical properties to create a holistic packaging solution," envisions Ranesh.
While speaking about offset, digital and packaging, he comments, "Digital print is a part of packaging. Print in itself is only a part while the converting part makes it into a functional package. The use of digital print in Packaging will continue to grow for sure."
And packaging is the area where VINSAK technology will open new avenues for Indian printers in the future. "Packaging is the future and printers should surely look for niche solutions that they can create for packaging," assures Ranesh.
Speaking of VINSAK's environmental goals, sustainability is a priority at the company. In all of their facilities, sustainability is followed very seriously. "Our offices use energy efficient devises, we are moving to Solar in our corporate office as well as in manufacturing facility in 2022 and Single use plastic is limited," shares Ranesh.
Going further, VINSAK is working with large brands and convertors on researching new ways of using material like PLA, Water based coatings Paper Vs Plastic etc. They are allocating major resources in this field.
"We have co engineered and deployed a Reverse vending program for PET bottles in the Middle East. Once stabilized, this would be rolled out globally as an independent business unit," says Ranesh.
What differentiates VINSAK solutions from others in the market is their cutting edge technology and strong after sales service. "Ours is the latest technology on the global market. We have a strong after sales service and last but not the least is the application support. It is not only important to buy the best kit, but also to get proper training and after sales service to get the maximum value and thorough put from the equipment that you purchase," emphasizes Ranesh.
What's more, VINSAK solutions are based on constant interaction with customers and their feedback on newer requirements. Customer and market feedback play a greater role at VINSAK while designing the next solution. "The fact that we have 98% customer retention rate is proof that we listen to the customer. In fact, in many cases we listen to the customer's customer and understand their needs. We are currently earmarking double digit % of our spend every year for R & D programs which then develop new products. We have a set of Beta testing sites within different geographies where our products are tested before we roll them out to the market," reveals Ranesh. Their USAR range of label finishing now has 12 variants – up from only 2 when launched in 2014 and Ranesh says they plan to add 4 more variants each year going forward.