GartexTexprocess India's New Delhi edition is bigger than ever with more than 200 exhibitors.
GartexTexprocess India 2022 just concluded with a remarkable 3 days of showcase of the latest solutions from the best solutions providers in the industry. With participation of over 200 companies, GartexTexprocess India proved a power-packed edition in New Delhi. The association with FABEXA brought fabric manufacturers and suppliers from Gujarat on the show floor to deliver a strong push to the region's textile and apparel sector.
Following the success of its first-ever Mumbai edition earlier this May, GartexTexprocess India, the leading B2B platform on garment and textile machinery, fabrics, accessories, and allied industries had a grand show in New Delhi at Pragati Maidan from 4 – 6 August 2022.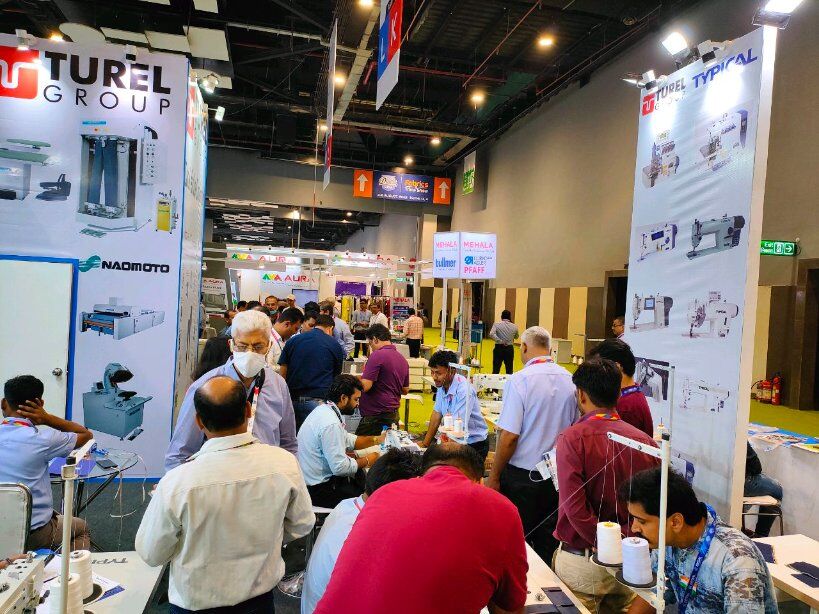 Affirming strong support and recognising the potential impact of GartexTexprocess India, Shri U.P. Singh, Secretary, Ministry of Textiles, stated: "lndia is one of the prominent textiles and clothing producing countries in the world. Domestically, it is the second largest employment providing sector and accounts for 11.4% of lndia's global merchandise exports during 2020 – 21 and holds a 4% share on the global trade in textiles and apparel. GartexTexprocess India New Delhi not only provided opportunities to overseas buyers to source their requirements but also provided a platform to domestic exporters, especially SMEs for expanding their export potential."
Co-located alongside Denim Show, Fabrics & Trims Show and Screen Print India, the three-day show converged more than 200 companies to create an extensive display of manufacturing technologies and finished products.
Top textile and apparel machine manufacturing brands such as: Aura, Fabcare, Jaysynth Dyestuff, Wenli, Baba Textile Machinery, Orange-O-Tec and Jack participated at GartexTexprocess India, while the Denim Show united leading denim producers of India such as: Jindal Worldwide Ltd, Arvind Ltd, Raymond UCO Denim Ltd, LNJ Denim, Siyaram Silk Mills Ltd, Kanchan Group and many more under its wing.
Meanwhile, Screen Print India showcased manufacturing technologies for textile, digital and screen printing from brands such as DCC Print Vision LLP, JN Arora, Konica Minolta, Epson and Green Printing Solutions, among others.
With an aim to promote localisation in the fabrics' sector, organisers Messe Frankfurt India and MEX Exhibitions Pvt Ltd joined hands with FABEXA, an arm of Ahmedabad's nodal textile trade body Maskati Cloth Market Mahajan for the Fabrics & Trims Show. The FABEXA pavilion hosted around 70 fabric manufacturers from Gujarat to demonstrate their expertise in fabric, cotton and natural based fabrics, including: Nakoda Fashion Pvt Ltd, Shashwat Textiles Pvt Ltd, Bhavna Processors Pvt Ltd, Viru Textile Mills Pvt Ltd, PanamTexfab Pvt Ltd and Shree Chamunda Fabrics. The trade fair also welcomed about 300 fabrics sourcing representatives as hosted buyers over the span of three-days.
As a highly-recognised industry exhibition, GartexTexprocess India New Delhi 2022 was backed by the support of Ministry of Textiles as well as chief industry associations and trade bodies, comprising: The Confederation of Indian Textile Industry (CITI), Denim Manufacturers Association (DMA), MaskatiCloth Mahajan, Retailers Association of India (RAI) and the Apparel Export Promotion Council (AEPC).
The seventh edition of GartexTexprocess India provided industry buyers an excellent platform to source the latest manufacturing machineries and behold the progress taking place in textile, garment production, screen printing and other allied sectors.
The Next Edition will take place at Mumbai: 11-12-13 May 2023.